Register your company in France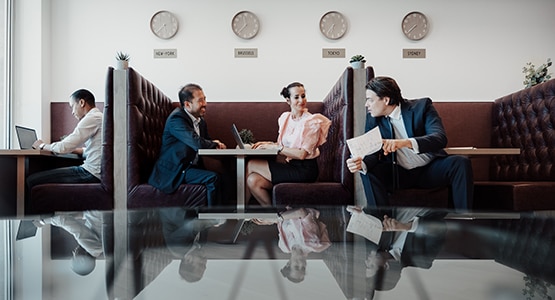 Address & business creation pack
From 119€ / Month
+ 398€ (1 time setup fee)
*prices are exclusive of VAT
Our turnkey solution for the creation and domiciliation of your company
Personalized advice from a dedicated accountant
Assistance for the creation of the bank account
Registration of Servcorp address as official adress
Company registration
Drafting of statutes
Completion of formalities with the Registry of the Commercial Court
Publication of the legal notice
Determination of tax options
Obtaining the Kbis
Mail management
Access to meeting rooms and private offices à la carte
Secretarial services on request
1 hour of coworking access per day in all Servcorp centers
Highly secure Wi-Fi network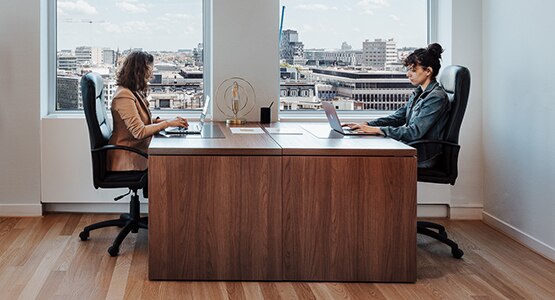 Workspace & business creation pack
From 498€ / Month
+ 398€ (1 time setup fee)
*prices are exclusive of VAT
Creation of your company and dedicated workspace
Complete creation of your business and personalized support
Prestigious address for all your business documents and communication
Your office in a shared space with 24/7 access
Professional and multilingual secretaries on site to assist you in your daily tasks
Reception and management of your mail
Access to meeting rooms
Printing, photocopiers and scanners at your disposal
Global access to our business lounges across the Servcorp network
Included in all our packages: water fountain, wide selection of branded teas as well as unlimited high quality ground coffee beans
Monthly networking events
Mail management
Highly secure Wi-Fi network
The domiciliation of a company corresponds to its commercial, fiscal and administrative address.
You have several options for registering your company's address:
To the personal address of the legal representative (Nevertheless, if the latter is a tenant, prior authorization from the lessor must be obtained)
At the address of a commercial or professional lease
To the address of a commercial domiciliation company (domiciliation agent)
The question of your own private home raises, in addition to authorization constraints, major questions of confidentiality. In fact, in the event of a dispute, the address chosen will remain yours.
The good alternative for your head office is to opt for a domiciliation center like Servcorp, which has had prefectural approval since 2012.
Pay attention to the suppliers you engage with: how long have they been in the area? Are they storefront or is it just a mailbox? Are the reviews positive? What contact did you have with the center in question? the credibility of the localization? the brand image that the address conveys?
Reinforcement of the professional image of your activity (address Avenue Kléber, close to the place de l'etoile and in the heart of the nerve center of the Parisian economy)
Dissociation from your private home
Daily management of your mail (receipt of registered and parcels) in your absence
Permanence guaranteed during your periods of leave (possibility of scanning your urgent letters or informing your callers according to your precise instructions, for example)
Assistants representing your company on site (telephone service, welcoming visitors, making appointments, receiving/handing over documents)
Possibility to hold professional meetings in our high-end office spaces/meeting rooms
Remote or on-site administrative assistance with a multilingual team to delegate to, so that you are only focused on the essentials of your activity
Total flexibility with monthly contracts – no long-term commitment
Ability to travel within the Servcorp network internationally for free
Full cost transparency: you only pay for what you use
Come to work in our Premium coworking spaces
Innovative IT solutions, guaranteeing you the best secure Internet, the possibility of taking your fixed line with you on your trip, receiving your voice messages by email and much more!
Facilities businesses need to succeed
All Servcorp locations are fitted with the essentials every business needs to thrive. Cut costs and gain access to the business-grade photocopiers, furniture, and facilities you need, all provided for free or pay as you use.

Executive-grade Office Furniture

Business-grade Photocopiers

Cisco IP Phones

Meeting Rooms

Fast, Secure Internet

Coffee, Twinings Tea

Secretarial Support

Bilingual Receptionists

Phone Handling

Mail Forwarding

In-house IT Support

Online Booking Management
Solutions for every business
Great places to do business
Great places to do business
Get email updates
Receive invites to Servcorp networking events in your area, new product releases, business reports, and special offers.